Lal Baba Ashram,

This piece is taken from my Pilgrimage to Theen Dham in September 2001
September,21,2001.
At last we reached "Bhojbasa" at about 1.00 PM. All of us were tired after six hours of journey from Gangothri and already the cold winds were blowing from the Bhagirathi valley down below. After getting ourselves accommodated in GMV Guest house. I came out and surveyed the place. It was a great sight of a big valley. Bhojbasa was a tiny village, with only two major permanent structures. One is GMV Guest House and the other down in the valley was Lal Baba Ashram. Otherwise there were a few small shacks and shops for the Syces who tender the Horses (Mules?). But down the valley Bhagirathi (Ganga) was flowing silently. You can hear the sound of cold winds blowing from the left.But the sight of the pyramidal spire of zinc sheets on the Lal baba Ashram down was a refreshing view.
Lal Baba:
I was curious to know about this holy man who was running an Ashram in such a desolate place for the benefit of Pilgrims and Sadus who travel to Goumukh, the birth place of Bagirathi (Holy Ganga). I am told Baba is no more, but has been running his Ashram over the past Forty years.Now his disciples run the Ashram. All the pilgrims are provided free accommodation and food all round the year. Trekkers from various places in India and outside were also accommodated by Lal Baba Ashram, without asking their caste or creed.Many devotees of Baba supply food items to the Ashram, which has to be carried by mules from Gangothri and other places down. A difficult task indeed.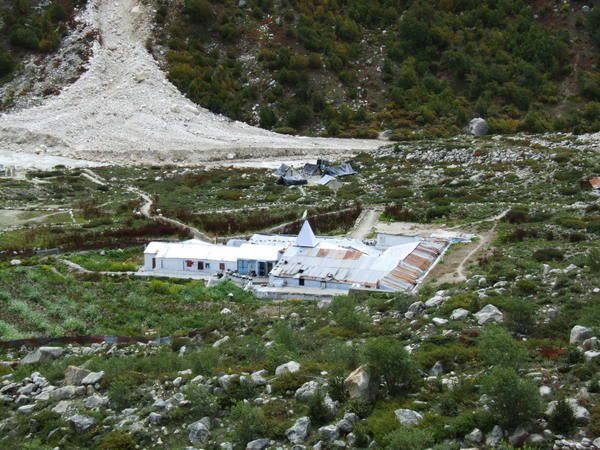 Regards,
Brahmanyan,
Bangalore.