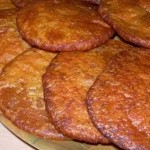 Raw Rice – 4 cups
Jaggery powdered – 3 cups
Khus Khus – 1 teaspoon
Dry Ginger Powder – 1 teaspoon
Cardamom powder – 1 teaspoon
Oil – for deep frying
Ghee - two to three teaspoon
Method:
Soak the rice in water for about one hour. Drain the water completely and grind it to a fine powder. Sieve it and keep it separately.
Dry roast the khus khus till it is slightly brown.
Add 3/4 cup water to the jaggery powder and make a soft ball consistency syrup. (If you put little syrup in cold water, it should stay under the water and if you remove it with your fingers, you will be able to gather it to a soft ball or a soft pearl). Add the fried khus khus, dry ginger powder and cardamom powder. Mix well and remove from stove. Add the rice flour slowly and keep stirring while you add the flour. Mix well. It looks like soft chapati dough. Sprinkle little ghee over the dough (to prevent drying) and keep it for 8 to 10 hours.
Heat oil in a kadai. Apply ghee to your hands, take little dough and make a lemon sized ball. Flatten them round like a small disc. Drop gently in the hot oil and deep fry on medium flame till it becomes golden brown. Remove and press it using a flat spoon so that the excess oil will drain off.
Note: When you are soaking rice, you can add one more cup of rice and make powder. Sometimes, the quality of rice and jaggery may differ and we need more or less rice powder. Hence, when you are adding rice flour to the jaggery syrup, you can add till you get a soft dough like chapati dough and stop adding rice flour. This way we will get right dough.
You can prepare adirasam immediately. However if you keep this dough over night and prepare adirasam on next day, adirasam will be soft and more tasty.
If you find the flour is too hard to make balls, then add little milk and make the dough soft.
For the above quantity, you will get 30 to 35 adirasams.

Thanks for your Visit! Please invite your friends to support this forum! This website is Totally 100% FREE for Users! Many more Value Added Services like Valuable books, Periodicals, Education Materials can be given for members. This can be done only with the support of large volume of members. Please Support by adding members, visiting often, posting often!