Sir,
I registered with you at the very first and changed the temporary password given at the time by my own. But unfortunately I have forgotten the password and been trying to retrieve by furnishing my E-mail ID to you.Iget the message on screen that my name n password details are sent to mail e-mail address but unfortunately, inspite of doing it a few times, I do naot get any mail reg/the subject at all.
Request solve the problem.
varaadarajan
In this forum it is very easy to change the password,
you can any time and many time change your password and also if your forgot your password
just click the button placed below the advertisement bar.
Here I give some instructions for members how to use the forum effectively:

In the above image, you are seeing nine menus horizontally.
1. Home 2. Forum 3. Useful 4. Experience 5. Downloads 6. Blogs 7. Classifieds 8. Gallery 9. Imp-Files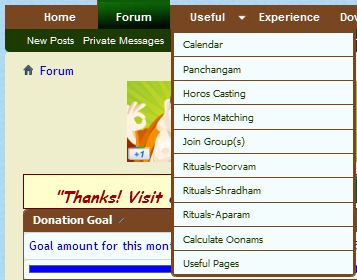 You have to try clicking on that to get new information. Members are just seeing only the message using the link that they have got through email(?) I hope.
See other image in the left side:
Under the Useful Menu you could find 10 other links to get ten different useful matters.
In the first image you see in yellow bank ground "Thanks! Visit often" welcome message.
Next a Green button with "Forgot password Click here". Just click this image to get the link
to reset your password. You have to enter your email then you have to type the letters found in the image,
which is for a verification that you are human, then finally click the "Request Username" button in the bottom right corner.
Now immediately go to your inbox, you will find a link to change your password.
Also, you can change any of your information by clicking the "Settings" at the top right corner of every page. Here under I had given all the links for you by which you can change your settings.
Please use the forum effectively by clicking here and there.
Quick Navigation
Settings
Top
My Messages
---
My Subscriptions
---
My Settings