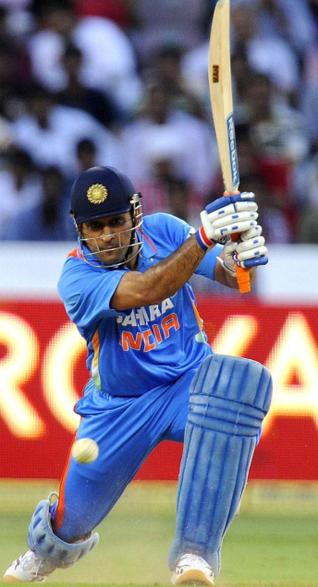 An elusive Indian dream became a reality at the Rajiv Gandhi International Stadium here on Friday night. Since the tie in a World Cup match at Bangalore in February, M.S. Dhoni's men have found in England, an impregnable rival. The ghosts of the immediate past were finally laid to rest at least for now as India defeated England by 126 runs in the opening One-Day International to go 1-0 up in the five-match series. Chasing India's 300 for seven in 50 overs, England mustered 174 in 36.1 overs.
The force-multipliers in the England top-order — Craig Kieswetter and Kevin Pietersen — were gone within the first 10 overs. Kieswetter nibbled outside the off-stump against Praveen Kumar and Pietersen, failing to get into his stride on a two-paced pitch, failed to beat R. Ashwin's throw.
Much hinged on skipper Alastair Cook (60) and Jonathan Trott (26), and the two cemented a 71-run third-wicket partnership. Cook fell while trying to force the pace against Ravindra Jadeja and the England innings lapsed into a free-fall as the last eight wickets fell for the addition of a mere 63 runs. Trott launched into an ugly cross-batted swipe against Jadeja; Ravi Bopara and Jonathan Bairstow enriched the follow-through of R. Ashwin and Jadeja respectively and stumps were repeatedly disturbed as Umesh Yadav's deliveries stayed fast and low to trigger celebrations in the stands.
LEAD ROLES
The Indian innings changed its traits of 'slow-and-steady' to 'quick-and-forceful' over the course of Friday evening while Man-of-the-Match M.S. Dhoni (87 n.o.) and Suresh Raina (61) played their lead roles to good effect.
The portents of change for the Indian skipper were evident when his wretched run with the toss thankfully ended in the afternoon.
Dhoni immediately opted to bat and watched openers Parthiv Patel and Ajinkya Rahane remain guarded against Tim Bresnan and Steven Finn. A quiet phase ensued while the fans slowly trickled in and the official broadcaster briefly lost connectivity and those outside the venue and in the rest of India, wondered about the plight of the match.
REPRIEVE
Rahane enjoyed a reprieve when Jonathan Trott dropped him at slip off Finn. The opener was yet to open his account but he failed to capitalise and his timing remained awry on a turgid track. Rahane inadvertently also caused Parthiv's exit shortly after his partner exuded confidence with an on-driven four off Bresnan. Parthiv backed up too far when Rahane drove Finn and the ball ricocheted off the seamer's palms and crashed into the non-striker's stumps. Parthiv was left stranded and a circumspect Rahane failed to get into his stride and fatally charged at Graeme Swann while Kieswetter whipped the bails.
Gautam Gambhir, who stepped in following Parthiv's dismissal, was quick to smash boundaries through a packed off-side though the step-and-slam routine led to a few leading edges that gave false hope to the fielders. The southpaw was a tad unlucky to be adjudged leg-before while Jade Dernbach's delivery seemed to be marginally missing leg-stump.
But, Billy Bowden raised the finger and at 79 for three with the bowling Power Play in progress, Virat Kohli and Raina had to consolidate rather than play their shots. Alastair Cook plugged point with two men and also beefed up the short mid-wicket cordon while Kohli failed to drill his strokes.
Yet Kohli and Raina (61, 55b, 5x4, 2x6) through their industrious ways added 44 runs for the fourth wicket before a piece of fielding brilliance snuffed out the alliance. Kohli, with his patience wearing thin, employed the inside-out lofted stroke against Samit Patel.
The ball was seemingly sailing over long-off when Kevin Pietersen timed his leap to perfection and cupped the ball.
Raina then allied with his skipper in a 72-run fifth-wicket partnership off 61 balls and India began its march towards a respectable total.
Raina picked his spots down the ground, taking the ball on the full and whacking it hard, but his best shot was the heft down fine-leg as Dernbach peddled a full-toss. Cook tried to rein in Dhoni's singles down the ground as the long-off fielder was brought to mid-off but the Indian captain found his way and during the batting Power Play (overs 36-40), he dug out Bresnan's yorkers and flat-batted the seamer as well as Finn.
Raina then plonked his front foot and hit through the line for mighty sixes against Bresnan and Finn. India was up and running as the batting Power Play yielded 59 runs, a statistic that was slightly marred by Raina's edged hoick against Finn.
Dhoni muscled ahead and egged Ravindra Jadeja on in a 65-run sixth-wicket partnership. Jadeja scattered Samit twice across the skies and India scored 91 runs in the last 10 overs to make England stare at an imposing target with Dhoni's helicopter shot against Finn being the pick of his meaty blows.
Later in the night, the Indian skipper snatched a stump as a cherished souvenir after the string of defeats finally ground to a halt.
India: Parthiv (run out) 9 (10b, 1x4), A. Rahane st. Kieswetter b Swann 15 (41b), G. Gambhir lbw b Dernbach 32 (33b, 4x4), V. Kohli c Pietersen b Samit 37 (63b), S. Raina c Bairstow b Finn 61 (55b, 5x4, 2x6), M.S. Dhoni (not out) 87 (70b, 10x4, 1x6), R. Jadeja (run out) 27 (22b, 1x4, 2x6), R. Ashwin (run out) 8 (6b, 1x4), Praveen Kumar (not out) 1 (1b); Extras (lb-4, nb-1, w-18): 23; Total (for seven wkts. in 50 overs): 300.
Power Plays: One (Overs 1-10): 47/1; Bowling (17-21): 20/1; Batting (36-40): 59/1.
Fall of wickets: 1-17 (Parthiv), 2-52 (Rahane), 3-79 (Gambhir), 4-123 (Kohli), 5-195 (Raina), 6-260 (Jadeja), 7-282 (Ashwin).
England bowling: Bresnan 10-0-66-0, Finn 9-0-67-1, Dernbach 10-0-58-1, Swann 10-1-35-1, Samit 8-0-49-1, Bopara 3-0-21-0.
England: A. Cook c Vinay b Jadeja 60 (63b, 7x4), C. Kieswetter c Dhoni b Praveen 7 (8b, 1x4), K. Pietersen (run out) 19 (29b, 3x4), J. Trott b Jadeja 26 (42b), R. Bopara c & b Ashwin 8 (10b), J. Bairstow c & b Jadeja 3 (7b), Samit Patel b Yadav 16 (18b, 2x4), T. Bresnan st. Dhoni b Ashwin 4 (8b, 1x4), G. Swann b Yadav 8 (9b, 1x4), S. Finn (not out) 18 (18b, 1x4, 1x6), J. Dernback b Ashwin 2 (5b); Extras (w-3): 3; Total (in 36.1 overs): 174.
Power Plays: One (Overs 1-10): 48/2; Bowling (16-20): 29/0; Batting (32-36): 36/1.
Fall of wickets: 1-7 (Kieswetter), 2-40 (Pietersen), 3-111 (Cook), 4-120 (Trott), 5-124 (Bopara), 6-126 (Bairstow), 7-134 (Bresnan), 8-148 (Swann), 9-163 (Samit Patel).
India bowling: Praveen 8-1-38-1, Vinay 5-0-24-0, Kohli 3-0-11-0, Yadav 5-0-32-2, Ashwin 8.1-0-35-3, Jadeja 7-0-34-3.

Thanks for your Visit! Please invite your friends to support this forum! This website is Totally 100% FREE for Users! Many more Value Added Services like Valuable books, Periodicals, Education Materials can be given for members. This can be done only with the support of large volume of members. Please Support by adding members, visiting often, posting often!