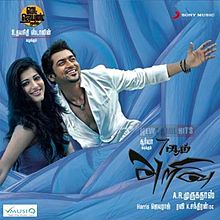 7 AM ARIVU:
The film starts with the fictional life[2] of Bodhidharma (Suriya), who is depicted in the film as the son of a great Tamil king of the Pallava Dynasty, who excels at martial arts and at creating medical remedies. He is sent to China by his guru, who requests him to stop the spread of a pandemic disease existing there from spreading to India. Initially the people in China treated him as an inferior but later when he cures a little girl from the deadly disease and fights against some people who ill treated villagers there, the people of China began to respect and worship him. He begins to teach them how to cure many diseases, the skills of hypnotism and the physical training of the Shaolin monks that led to the creation of Shaolinquan. However after few years, when he expresses his desire to return to India, the villagers plot to poison him and bury him near the temple, believing that their place would be disease free if he's buried there. Bodhidharma agrees to die and subsequently becomes a fundamental figure in Chinese history, affectionately being dubbed as Damo.
The film switches to modern day China, where Dong Lee (Johnny Tri Nguyen) is given the task of starting a government planned biological war against India, known as Operation Red. Dong Lee starts this operation by injecting a virus into a street dog. This disease was the one which occurred during the time of Bodhidharma in China. Meanwhile Subha Srinivasan (Shruti Haasan) researched that Bodhidharma can be brought back to life if his sample of DNA is matched with another sample of DNA which she finds in Aravind (Suriya) a descendant of Bodhidharma who is working as Circus artist in chennai. Shuba tries to give life to Bodhidharma to end the menace of Dong Lee. But Dong Lee, who is capable of doing anything, does all impossibly bad things, mastered in 'Nokku Varmam' (Hypnotism), a martial art which was actually taught to the Chinese by Bodhidharma.Shuba with the help of her friends from her genetic department tries to activate the bodhidharma DNA in Aravind in a research centre .But Dong Lee with the help of Shuba's professor who had received a huge sum of money from the china government helps him to trace the location of Shuba and her friends.But after Dong Lee traces them he then kills the professor.Dong Lee then locates the place of the research centre .Shuba and her friends in the research centre try to escape in a van but Dong Lee chases them and the van collapses.Aravind was beaten badily by Dong Lee at first then Arvind manages to regain Bothidharma skills somehow in spite of the sunrays hitting him on his face which was not supposed to happen and a day before he was estimated to regain his skills. Then Aravind becomes Bothidharma and kills Dong Lee, like, Master Oogway defeats Tai Lung, in Kung Fu Panda. Later Aravind eradicates the virus spreading and then he gives a lecture about the need for us to remember our history and to teach all our practices in the name of science and not god.
Cast
Suriya as Bodhidharma and Aravindhan
Shruti Haasan as Subha Srinivasan
Johnny Tri Nguyen as Dong Lee
Guinnes Pakru as Aravind's Friend
Ashwin Kakumanu as Ashwin
Saahil Chitkara as Imran Saahil
Dhanya Balakrishna as Malathi
Misha Ghoshal
Avinash
Ilavarasu as Aravind's father
Abhinaya as Bodhidharma's Wife
Azhagam Perumal in a guest appearance
Production
Casting
Initial reports suggested that Suriya would play three characters; a circus artist,[3] a scientist and a Buddhist monk,[4] for a portion set in China in the 5-6th century.[5] However, it was clarified that the scientist's role would be performed by the female lead, Shruti Haasan[6] while Suriya would play a modern day circus artist as well as Bodhidharma, a Buddhist monk who lived during the 5th century. Vietnamese actor Johnny Tri Nguyen, a stunt double in the Spider-Man series, was signed to play the antagonist,[7] while Kannada actor Avinash [8] and Abhinaya of Naadodigal fame were selected to play minor supporting roles in the film.[9][10]
Influences
Sources claimed that the film drew inspirations from Christopher Nolan's Inception. However, the director dismissed the news, reasoning that he had begun shooting much before the release of Inception. Murugadoss further denied reports that the film was a remake of the Bollywood flick Chandni Chowk to China, as both were supposed to be set in China, and that the film's concept was similar to that of the Hollywood film Perfume, confirming the script as original.[11] After completing the film, he emphasized that he had not been inspired or remade any film, stating that Hollywood filmmakers can "feel free to remake 7aum Arivu".[12]
Filming
A group of 1000 junior artists were alloted for a song which was claimed as the highlight of the film.[13] A stunt sequence which involved shooting at Binny Mills at Perambur, Chennai forced Suriya to take a 3 day rest due to an ankle injury.[14] The first schedule of the film was completed in China,[15] which was followed by shoots in the Ampa Skywalk Mall,[16] and in Besant Nagar, Chennai.[17] Suriya trained to get a Six pack abs for a Kung Fu sequence within 16 days, following cinematographer Ravi K. Chandran's request.[18] Shabina Khan designed the costumes for Suriya and Shruti, staying with the team throughout the filming process in Bangkok and Hong Kong.[19] The song "Mun Andhi" was shot in Thailand.[20]