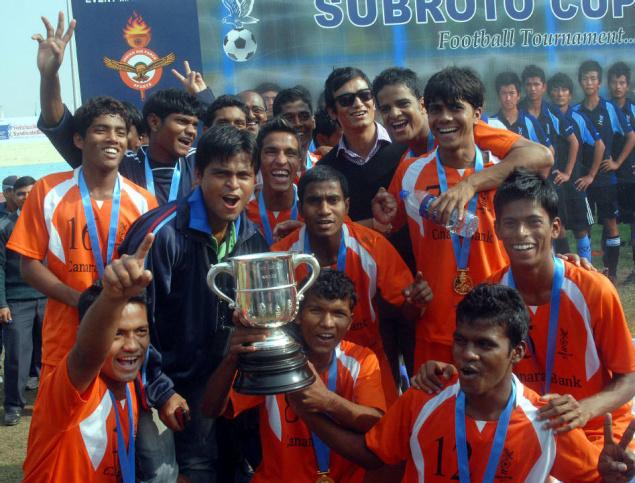 FOOTBALL:
NCC (West Bengal and Sikkim) beat Mynken Christian Higher Secondary School, Meghalaya, 2-1 to win the title in the under-17 Subroto Cup football tournament at the Ambedkar Stadium here on Friday.
NCC's Bhaskar Seal (eighth minute) and Meghalaya's Gamediel K. Lyngdoh (30th) hit the target to leave the two sides tied 1-1 after the regulation period of 70 minutes. Viswanath Soren scored the winner in the third minute of extra time.
NCC dominated the match with continuous raids. Following Antu Sardar's miss from close range in the early minutes, Seal earned the lead for the NCC boys. Shamshad Ali's shot hit the upright and in the ensuing action Seal found the mark.
Ali combined well with captain Biswajit Halder upfront and kept the Meghalaya defenders on their toes.
Solid tackles
In reply, the Mynken boys struggled to penetrate through the NCC defence as Tanmoy Maity and Mohammed Asif came up with some solid tackles.
Meghalaya got two free-kicks in quick succession and Lyngdoh struck home off the second one. His curling left-footer from about 35 yards convincingly beat NCC goalkeeper Kalyan Hembram.
Following a dull phase of action in the second half, Mynken missed a golden chance. Mynken was awarded a penalty when Donborlang Nongkyndh was brought down inside the rival box. However, the Meghalaya team was left disappointed as Rupert Nongrum hit over the crossbar.
In extra time, NCC tasted success through Soren who netted the goal off a rebound.
The winning side collected a cheque for Rs. 3 lakh, while the runner-up took home Rs. 1.5 lakh.
Halder was adjudged 'best player of the tournament.' His teammate Kalyan was named 'best goalkeeper.'
The result:
NCC (West Bengal and Sikkim) 2 (Bhaskar Seal, Viswanath Soren) bt Mynken Christian HSS, Meghalaya 1 (Gamediel K. Lyngdoh).